Your profile is the first thing the landlord will see. By creating an attractive profile you will improve your chances of getting your dream home:
How to boost your profile
Increase your chances of getting a rental agreement on Qasa by doing the following:
Verify your identity with BankID
Applicants with a verified ID number have 3 times greater chances of signing a rental agreement on Qasa. If you have the opportunity to verify your ID, we strongly recommend you to do it! You can do it by clicking on the pencil next to your name in the profile.
Unfortunately, we can only offer this verification to users with a Swedish BankID at the moment. We are however working on an alternative solution, stay tuned!
Provide references
Applicants with verified references have 6 times greater chances of signing an agreement on Qasa. Submit references from previous landlords or employers through your profile. We will contact the references and give you the "Approved Reference Certificate" if your references recommend you.
Upload a profile picture
Applicants with a profile picture have a better chance of signing a rental agreement on Qasa. Upload a picture that best represents you as an applicant.
Tell more about yourself
Fill in your profile with information about your hobbies, work or study, and who will be living in the accommodation. Landlords often prefer to rent to people who resemble themselves or share common interests.
Make your profile public
You can choose to make your profile searchable under "Find a tenant". This way, relevant landlords can find and contact you, increasing your chances of finding accommodation.
Verifications
Under your settings, you will find different verification alternatives that can make your application even more attractive. These may include:
Credit register extract
A register extract is a credit report that you obtain yourself and share with the landlord. It is only visible to professional property owners and managers verified by Qasa. You will be prompted to complete it when applying for one of these accommodations (this is not something you need to consider when applying for a regular sublet).
The same register extract can be reused multiple times and does not affect your creditworthiness. You can see if you have provided a register extract under your settings.
Credit check
A micro-inquiry is automatically carried out by our sister company, Qasa AB, when you enter into an agreement for subletting with us. The inquiry does not affect your creditworthiness and is carried out only after your landlord signs your joint agreement. This is necessary for Qasa to handle your rent payments and determine whether you can rent without paying a deposit.
You can choose to do the credit check yourself before the agreement is signed. This is to find out if you can rent without a deposit or not before entering into an agreement. You can do it under your settings or by clicking "read more" in any housing advertisement (see image).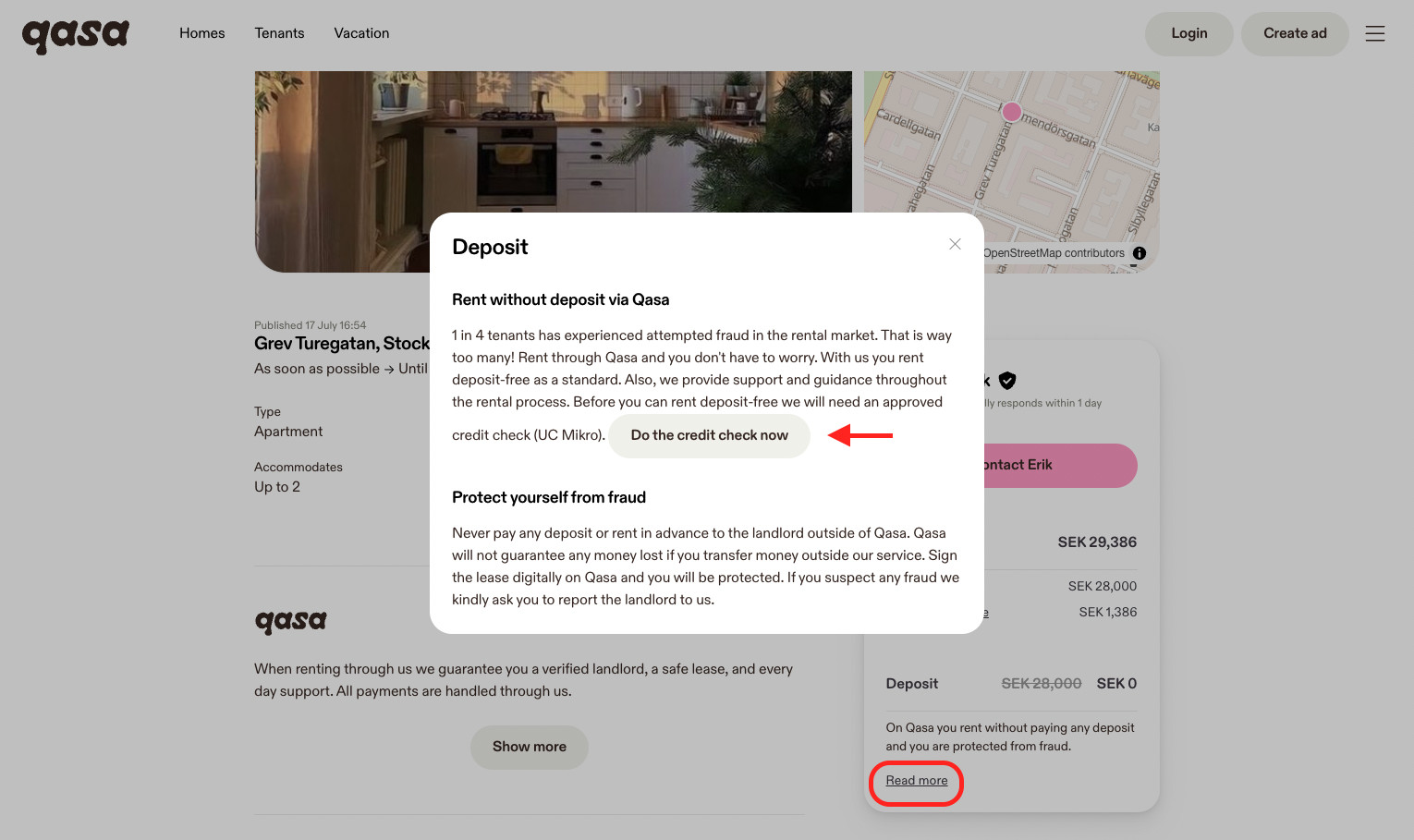 Income estimation
You have the opportunity to obtain an estimate of your income through our partner Tink. This information is only shared with professional property owners and agents verified by us, to assess income requirements. You will be prompted to estimate your income when applying for accommodations where income requirements are requested (this is not something you need to consider when applying for a regular sublet).
If you find that Tink's estimate of your income is not correct, you have the option to let us manually verify your income by providing us with proof of your income.