Publish a free ad on Sweden's largest marketplace for rental homes. It's an easy and efficient way to reach thousands of potential tenants!
This article is about long-term rentals. For information on vacation homes look here!
Create a new ad
To get started, click on Rent out in the main menu and follow the instructions. If you haven't logged in yet, you will be prompted to do so or create a new account.
What makes a good ad
To create an effective and appealing ad, it's essential to pay attention to details and provide relevant information. Here are some tips to improve your ad:
Describe the property: Tell what makes the property special. You can use our integration with Open AI to generate a good foundation for your description.
Neighborhood and transportation: Keep in mind that tenants might not be familiar with the area. Take the opportunity to showcase the neighborhood and all its advantages. Are there parks and green areas nearby, schools, grocery stores, liquor stores, and pharmacies? How is public transportation? Are there good parking options?
Shared spaces: If there are common areas available in the property, don't forget to mention them!
Pictures are important!
Good pictures can make a significant difference, but you don't need a professional photographer to stand out! Take out your mobile camera and follow these tips:
Tidy up before taking photos!
Take pictures during the daytime when there is plenty of natural light on the property.
Stand in the corners of the rooms and hold the camera in landscape mode at waist level.
Upload at least 10 pictures that provide an overall feeling of the property and the area.
Arrange the pictures so that the viewer understands the layout of the property.
Use the best picture first to capture interest.
Verify your ID and publish the ad
To guarantee a safe and fraud-free experience, we require all landlords to have a verified ID before they can publish a housing ad. Your social security number will, of course, not be visible to anyone on the platform.
The easiest way to verify your account is via BankID. If that is not possible, we are happy to help! For a manual verification, we need you to submit the following documents via this link:
A photo of your identification document (e.g., a passport or driver's license).
A photo of a property ownership document for the property you intend to advertise.
A photo showing that you have a Swedish bank account. In the same photo, the bank's name, the account holder's name (your name), and the account and clearing numbers should be visible.
Edit the ad whenever you want
You can always make changes to your listing, even after it has been published. Just click on My listings and select the ad you want to edit.
Your contact information will not be visible in the ad
Your contact information will never be displayed in the housing ad. Interested tenants will instead contact you through your chat on Qasa. This way, you are always in control, and you also know who you are talking to! You can read more about how to contact tenants here.
Renew your ad
If you want to appear at the top of the sorting again, you can renew your ad. Just click on My listings, select the ad, and click "Bump listing". Renewing a listing costs 99 SEK.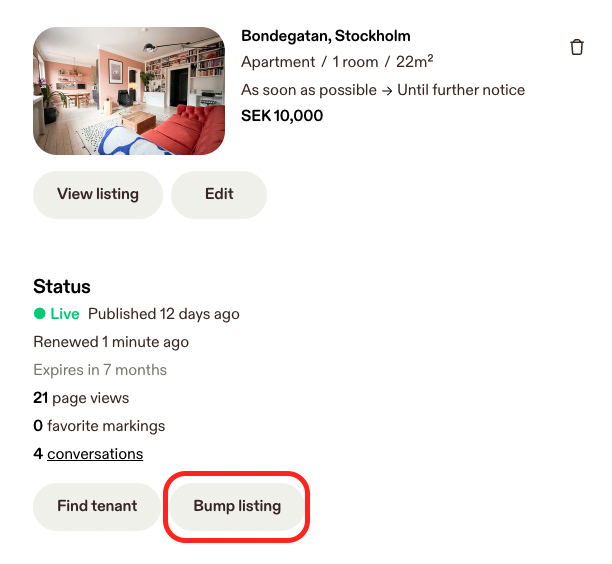 Publishing for someone else
Do you want to help someone else with the advertising and rental process? No problem!
Keep in mind that the landlord who will be signing the agreement needs to be the same person who verified their BankID when publishing a listing. Therefore, ensure that the person you're assisting (who will likely be the one ultimately on the lease agreement) is the person listed on the account. Here you can read more about how to write a lease agreement.
The ad is automatically archived
When you have signed a rental agreement through Qasa, your listing will be automatically archived. So, it's nothing you need to worry about.
If you haven't signed a rental agreement, you can remove the ad yourself. Just click on My listings, select the ad you want to remove, and click on the small trash can in the upper right corner.